TMS Project Car: Roy Wicklund's BMW E30 M3
Roy purchased this super clean 1991 BMW E30 M3 in the spring of 1998 and has proceeded to turn it into one of the finest road/track M3's you'll ever see.  His initial goal was to convert it to the equivalent of the Sport Evolution (Evo 3) model sold only in Europe in 1990, but he went well beyond that….. it has virtually every engine, brake, suspension, wheel, and miscellaneous options Turner Motorsport (TMS) offers, including the 2.5-liter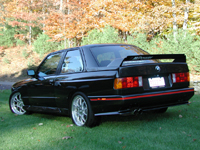 stroker engine with a Stage 3 cylinder head. In addition to its 275 bhp performance and exceptional handling, this M3 is drop-dead gorgeous with it's numerous, but subtle, appearance adds, like the Evolution 2 front and Evolution 3 rear spoilers, clear lenses, and BBS-RK or SSR competition wheels.  And, if that weren't enough, it has a custom, award-winning sound system that would make you never want to get out of this car. 

The specific list of adds to this E30 M3 include:
Roy's E30 M3 has been a concourse winner, a stereo sound competition winner, featured in and on the cover of   Performance BMW magazine (Jan 2002), and is regularly driven at BMWCCA driving schools and autocross competitions.   It is no garage queen … it just looks like one.
Roy admits he couldn't decide what direction he wanted to

go with his BMW dream car, i.e., performance, appearance,
 luxury...so he went in every direction! The only negative with this "every direction" approach is that his total investment is
 now more than twice what he paid for the car! 

 

However, he has no regrets in turning this timeless classic BMW into the truly "ultimate driving machine". Still in the plans for this car is anything else that will keep this E30 M3 one of the best!