Turner BMW E46 330i ZHP Project Car
** Updated 03/25/2015 **
After
two
Speed Touring Car Championships, years of successful racing in Grand Am Cup, and tuning countless E46's for the street, Turner Motorsport decided to build a Championship Motorsport Edition E46 330i ZHP. The goal was to build a great dual purpose car that all of our customers could appreciate. Starting with the rare ZHP Performance Package we focused our efforts under the skin - upgrades to the engine, and driveline, exhaust, suspension and wheels, and brakes.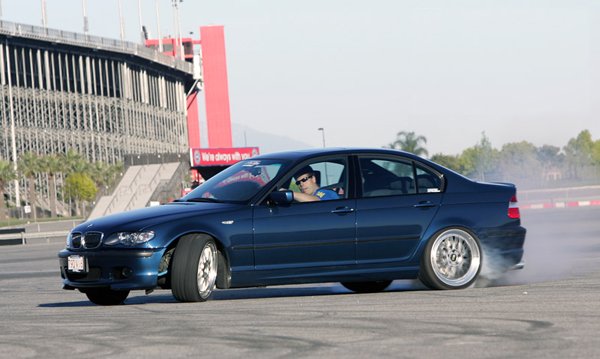 Power
We love the response and power delivery of the ZHP I6. But to really come alive, we decided to shorten our gears slightly with a 3.64 limited slip. This put us in the meat of the powerband more quickly and more often, at the expense of running a few hundred RPMs higher on the highway, and probably a few MPG's less as well. But this car isn't about fuel economy, is it? With the gearing changed, every other modification we did felt much more noticeable. A full SuperSprint exhaust and aFe intake gave us the sound we really wanted to hear and loosened up at least 35 hp when all combined. That's a great gain on an NA car! Still, we knew we would want more power considering these were just the basic power bolt-ons so far. Next, we experimented with cams and settled on Shrick 264 degree intake/248 degree exhaust cams. This equals a 10.5mm lift on the intake and 10mm on the exhaust valves. This gave us a mid-high RPM boost and doesn't require any software changes. Hard to believe we had done no internal engine modifications up until this point. We also strapped in a longer drive belt and larger accessory pulleys, which frees up almost 5% more power and improves throttle response.
Suspension
For us, a big part of spirited driving whether on the street or on the track is predictability. That's why we went with the LSD, and the same logic defined our suspension choices. We supplemented H&R coils with front and rear sway bars and adjustable rear camber arms so we could go for a more aggressive alignment at the track, when we want it, and more conservative setup for the street.
Brakes
Upgrading the brakes over the ZHP's stock rotors and calipers is a no brainer. StopTech supplied the big brake package to make our car immune from fade and what's more, they work seamlessly with the ABS and DSC systems on our car.
Overall
We determined early on that this would not be an all-out track car with racing seats and a rollcage. It had to be practical for everyday use with the added benefit of weekend track capabilities. We enhanced but retained the subtle looks, kept the refined ride and control for everyday driving, and give the car a performance edge for the street. What we ended up with was a comfortable, high performance street car that doubles as a weekend track car, and it puts down lap times faster than some M3s!
Gallery: