Turner BMW E46 M3 Project Car
** Updated 10/28/2015 **
Turner Motorsport has a strong and storied history of improving BMW M3s. The third-generation E46 M3 debuted in October 2000 and was a radical departure from the two previous generations for those in the U.S. market. For the U.S market BMW had optioned to equip the previous E36 M3 received a less powerful 240 bhp S50/S52 engine, compared to the drastically different Euro-spec S50B30 and S50B32 engines found overseas, which produced 286 and 321 bhp respectively. For the first time, we were getting a "true" M3 experience. Turner Motorsport's first E46 M3 was delivered to us on March 21, 2001. It was one of the first E46 M3s off the production line and we quickly became one of the leading E46 M3 tuners in the world. Our M3 was Imola Red/black interior, with a 6-speed manual and 18" wheels. Like all of our project car, our E46 M3 didn't stay within the factory specifications for long. We picked out the best performance parts for our M3 in order to improve upon an already great sports car.
Today, despite its design being nearly 16 years old the E46 M3 remains one of, if not the most popular BMW M3 to-date. The S54 power plant has achieved legendary status in the world of BMWs, as it is the last naturally-aspirated inline six-cylinder engine to come in a M3. The E46 chassis has wowed enthusiasts on the street and has claimed numerous victories on race tracks around the world during its history. Turner Motorsport has built and continues to build the best in street and track E46 M3s. Our championship-winning race team won the 2006 Grand-Am Cup Grand Sport class championship in our E46 M3 and we have claimed a total of five championships with the E46 chassis as-a-whole.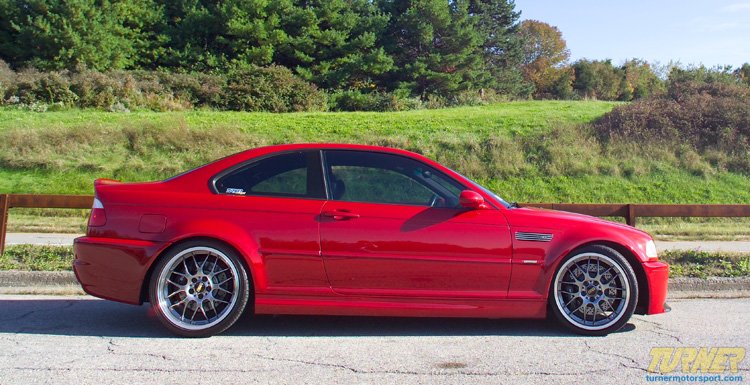 Turner Motorsport has one of the most extensive parts inventories for the E46 M3 in the world. We offer OE, OEM factory replacement and performance parts for nearly every area of the E46 M3's chassis. From engine, drivetrain, suspension, brakes, exterior, interior, wheels and so much more, Turner has what you need to maintain our E46 M3 and to make it perform at a higher level.
In addition to established top names like Bilstein, StopTech, and Supersprint, we have commissioned our in-house R&D staff to create products that are functional and exceed our own lofty standards for quality, performance, and durability. Turner offers a large selection of Made in The USA components for your M3, including numerous suspension and chassis parts designed to outperform the factory part, whether it be for the street or the track . Our 20+ years of BMW tuning and performance experience, combined with our Professional race team's extensive success with the E46 M3 means an unmatched line of performance, accessory, and service parts for your E46 M3.
Click below to read the January, 2004 issue of Roundel magazine featuring our Imola Red E46 M3 Project Car.
Click here to download the article
. (3.84 MB PDF File)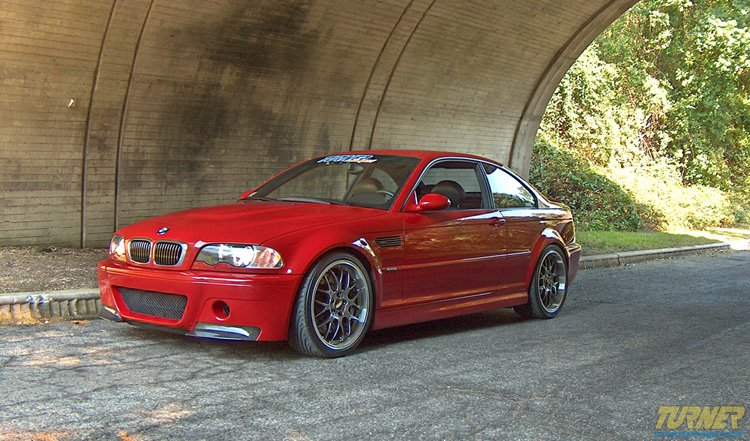 The Gallery
E46 M3 Suspension Upgrades

---

Turner Motorsport Rear Adjustable Camber Arms for E46 M3
Our adjustable camber arms are designed for street (rubber mount) and track (bearing mount) cars that need to have more camber adjustment than the factory design can provide. These arms are a replacement for the stock camber arm (lower control arm) and are adjustable at both ends. Our arms are also extremely light - weighing only 2lbs per side. Our arms are engineered for maximum adjustment ranges, lightweight, and excellent strength with replaceable components.

Click here to order.



---

Turner Motorsport Front/Rear Sway Bar Upgrade for E46 M3
Turner Motorsport swaybars for the E46 M3 were designed to provide better overall balance and performance than the stock anti-roll bars. With these bars you can greatly reduce bodyroll and decrease the understeering effects of a staggered wheel setup. They are adjustable in the front (3-position) and the rear (2-position) to fine tune the handling for both the street and the track. The Turner bars are sized at 30mm in the front and 25mm in the rear (+4 and +3.5mm from stock, respectively). We supply them with a urethane bushing with a reinforced inner core that requires no lubrication or maintenance so you wonà 'Ã' 't have to put up with annoying squeaks and annual greasing work. These bars are crafted from a special spring steel that is both stronger and more resilient than competitive sway bars. They have been shot peened and heat treated, and feature precision forged ends. We feel that these are the best bars on the market for the E46 M3 - we have used these on our race-winning M3s in the Koni Challenge and SCCA T2 classes.

Click here to order.



---

Turner Motorsport Rear Trailing Arm Bushing Limiter Kits for E46 M3
The Turner rear trailing-arm bushing limiter kit creates a stiffer rear suspension without sacrificing ride quality. Stock trailing arm bushings are known for failure, on both the E36 and E46 BMW chassis. This kit is a perfect upgrade from stock, as it reduces bushing deflection, dramatically increases bushing life, improves handling, and all without the harshness of "race-only" bushings, and while maintaining completely silent operation -- no squeaks and no vibration, whatsoever.

Kit includes: 4-black anodized aluminum bushing limiters, eight 5mm allen bolts and a drilling template. Our Limiters have a hardcoat anodize (stronger than standard anodizng) and a Teflon coating that prevents the bushing material from bonding with the Limiter.

Click here to order.



---

Turner Motorsport Front Adjustable Camber Plates for E46 M3
The Turner E46 M3 Street Camber Plates are the most advanced design on the market. These are designed specifically for the E46 M3 - no shortcuts or cookie-cutter components. We started with a fresh design to make these very user friendly and easy to install and set up. The E46 M3 front suspension has unique geometry and the strut is mounted at an angle that can put significant side loading on the strut shaft if it's not located properly. The location and angles for the main bearing were carefully engineered to allow the proper motion ratio and strut angles during adjustment. This greatly reduces bending forces on the strut itself which improves performance and longevity. By designing for one chassis we're able to focus on what works best in that application - proper fitment and operation without unnecessary adapters, easy-to-use camber and caster adjustments, and an intelligent modular design.

Click here to order.



---

H&R Sport Springs for E46 M3
H&R Sport Spring Set dramatically improved the looks and handling characteristics of our M3. A progressive spring rate means these still offer a very compliant ride, but without nearly as much slop compared to stock. Installation is straight forward. Sport spring set will drop the car -1.2" Front and -0.5Rear". This spring set can be used with the stock shocks or aftermarket performance shocks. We also have a kit that features an adjustable rear spring perch that may be a benefit if you would like to control the height in the rear.

Click here to order.



---

Turner Rear Subframe Reinforcement Kit for E46 M3
The E46 rear driveline and suspension are very similar to that of the E36. An unfortunate side effect of this is that the E46 also shares some of the same problems as the E36. One of these problems is the rear mounting points for the subframe, which can rip out from their spots in the sheet metal. This happens because the rear differential transmits the torsional load from the engine through the subframe, then into the chassis. This constant loading and unloading weakens the sheet metal and causes it to fatigue and separate from the chassis. This is where we have seen many failures of the chassis on low mileage street cars and race cars. Our reinforcement kit has proven over and over again to be effective and the easiest to work with in the long run.

Click here to order.



---

Bilstein PSS10 Coilover Suspension Kit for E46 M3
Immediately after installing this suspension in our M3, we knew right away this would be the #1 selling item for this car. Will Turner says "Hands down, the best modification you can do to this car." 10-way adjustable shocks, fully adjustable ride height, and unsurpassed Bilstein quality! Bilstein's PSS10 coil over system combines adjustable monotube shock damper technology with front and rear height adjustments to give you everything you need in one package. The E46 PSS10 kit is one of the most impressive suspensions on the market for performance and quality. Bilstein has engineered this kit to be functional and specific to the E46 M3 chassis and not overloaded with features and bullet points that you'll never use. With the PSS10 you get 10 damper settings with meaningful differences between clicks, ride height adjustment, TUV certified quality and performance, a limited lifetime warranty, and easy fitment with stock mounts and links.

Click here to order.



---

KW Coilover Suspensions for E46 M3
Turner carries a full-line of KW coil over suspensions designed specifically for the E46 M3. Their offerings are classified in different "variants", ranging from their street-based V1 kit to the track-focused Clubsport, and everything in between. Their coilovers feature adjustable compression and rebound settings that allow you to dial-in the perfect setting to fit your specified driving style. KW kits also have stainless steel housings for excellent corrosion resistance and are TUV approved for quality and safety.

Click here to order.



---
E46 M3 Engine Upgrades

---

Turner Power Pulley Kits for E46 M3
Under drive pulleys slow their related accessories and free up horsepower. There is no downside to using our pulleys - we have designed each one to preserve functionality and reliability for street use and each one is spun from aluminum so there won't be any failed plastic parts. A new, longer belt is included. This is a 3-pulley system to maximize potenital gains (you can also run with the stock alternator pulley). They under-drive the water pump, power steering pump and alternator. Adding these is like getting FREE HORSEPOWER - there are no downsides! These kits have been dyno tested to provide up to 11hp gain!

Click here to order.



---

aFe Power Intakes for E46 M3
aFe's intake kits for E46 M3 replaces your restrictive factory air box. By removing your stock intake air box, you are removing the most restrictive portion of your M3's intake system, increasing both horse power and torque, improving acceleration as well as throttle response. Each precision-engineered intake component and filter offers excellent design and construction, lifetime cleanable cotton filters that breathe easier than paper filters, powder-coated heat shields to block out hot engine air, and measurable performance gains resulting in increased horse power and torque.

Click here to order.



---

Fluidyne/Turner Aluminum Radiator Upgrade for E46 M3
This is the new E46 M3 aluminum radiator that we collaborated with FLUIDYNE on. We're taking advantage of FLUIDYNE's new core design that packs much more surface area in a stock-sized core. Instead of the usual two rows of tubes, FLUIDYNE's all-aluminum radiator has three rows of tubes in a core no thicker than the stock radiator. This radiator also has 30% more rows than the stock radiator (55 vs 42). With greater surface area and more efficient use of air flow comes better cooling, especially in the most critical spot where the fins meet the tubes, as this is where most of the heat transfer happens. Where most other aluminum radiators use a thicker core, FLUIDYNE's new packaging solution performs better and fits better in the engine bay with better clearance to other components. A second benefit with this new core is that it minimizes added weight gain, helping to get the car as light - and as fast - as possible.

Click here to order.



---

Schrick Performance Camshafts for E46 M3
Schrick Camshafts feature higher lift and more duration to maximize intake/exhaust mods, especially at high RPM. We offer two sets of cams - CSL-spec patterned after the factory CSL cams or CSL-upgrade that are very aggressive. We plugged these into one of our Project M3s and saw a linear power increase from mid-range up to rev limit with a smooth idle. Peak gain was +15 HP.

Click here to order.



---
E46 M3 Drivetrain Upgrades

---

Custom Limited Slip and Gearing Differential Upgrade for E46 M3
A custom differential is one of the best upgrades to have done to your E46 M3. Not only can you get more performance but you can also address the weak points in the M Variable limited slip diff. It's easy to forget about the rear axle when you're considering performance upgrades but changing the gearing is in the top 3 things to do to make the car faster. A custom diff is also a rebuilt unit with new seals, bearings, and limited slip unit. Gearing The E46 M3 diff comes with a relatively short 3.62 gear ratio. They could use a shorter gear because the engine redline is so high - the car has a long power band and the gear spacing allows you to stay well within that range. There's always more acceleration to be had with a shorter gear set.

Click here to order.



---

SPEC Stage 2+ Performance Clutches for E46 M3
The SPEC Stage 2 clutch is a premium, no compromises heavy-duty clutch upgrade for the 2001-2006 E46 M3 (manual transmission and SMG). Where the stock clutch is well-known for premature wear when driven hard and the factory dual mass flywheel is a known failure point, the SPEC clutch delivers with an over-engineered, performance-oriented clutch solution. The single carbon-Kevlar clutch is rated at 545 ft-lbs, more than enough for the naturally-aspirated S54 engines. A heavy-duty pressure plate and throw-out bearing complete the package.

Manual Transmission: Click here to order.

SMG Transmission: Click here to order.



---

UUC EVO3 Short Shift Kit for E46 M3
UUC's latest update has resulted in even smoother shifts, a reduction in vibration, and more features! UUC redesigned all of the pivot points in the shift linkage to reduce notchiness. The result is a shifter that is 35% shorter than stock but feels closer to the stock effort. And new internal dampening material doesn't transmit vibration to the shift knob. Simply-put, this is the most complete short shift kit on the market. All UUC Short Shifters are height-adjustable over a 3/4" range - giving you the same ergonomic comfort as the original. UUC's Short Shift Kits include: T-304 stainless steel shift lever, sealed lower pivot bearings, and new installation hardware. Delrin shifter carrier bushings INCLUDED for the E46 M3. This is the best Short Shifter money can buy!

Click here to order.



---
E46 M3 Exhaust System Upgrades

---

Supersprint Exhaust Systems for E46 M3
Supersprint produces modular exhaust designs that let you configure your own system. They are one of the very few companies that builds a complete exhaust from the engine to the bumper and tests each section for optimal horsepower gains and a great sound. For the E46 M3 offers everything you're looking for, from fully stepped headers, catted and catless section 1 and section 2 and sport and racing mufflers. Even at a premium price Supersprint is an unbeatable exhaust system because every aspect is done to such a high level. Most Supersprint systems are built with larger diameter piping to improve exhaust flow which helps the engine do less work and make more horsepower!

Click here to order.



---

Borla Exhaust Systems for E46 M3
Borla produces a variety of products for the E46 M3, including complete cat-back (section 1, section 2 and muffler) exhaust systems, sport and ATAK (race) tuned mufflers as well as midpipes. These systems are made in the USA with true T-304 stainless steel inside and out and backed with a 1,000,000 mile warranty. Borla puts and emphasis on quality by using stainless steel throughout their piping and muffler bodies (not a mild steel or coated aluminum). This ensures the muffler does not deteriorate from the inside out. Borla designs their exhausts to complement a BMW's understated sportiness, not overpower it. Borla produces each system to have a deep, sporty tone that doesn't offend or intrude on the cabin. So you hear the exhaust when you want to, not all the time.

Click here to order.



---

Turner/Corsa Sport Exhaust System for E46 M3
TURNER Corsa Performance T-304 stainless exhaust system for 2001-2006 E46 M3. Features mandrel-bent tubing, polished quad 3" tips, and drone-free quiet-cruising, thanks to patented Reflective Sound-Cancellation (RSC) technology. The Corsa system also eliminates the "rasp" characteristics of the stock exhaust sound. This rasp-elimination is accomplished just like the old "Rasp-X" product. This system is amazingly quiet during normal cruising, due to the "no drone" RSC technology, yet still has an aggressive presence and full sound while under throttle. This makes for ideal sound for those that want an aggressive "roar" while driving hard, yet still want a more discrete lower volume for normal cruising.

Click here to order.



---

Genuine BMW Euro-Spec M3 Headers for E46 M3
Headers are the #1 upgrade to get more power from the S54 engine. When we drove a Euro-spec M3 for the first time (around the Nurburgring) the additional torque and power were obvious! With the stock US cats in the exhaust manifold, the design is very constricted. By bolting on a set of open headers, gains of up to 25hp can be achieved. Torque is also similarly increased.

Click here to order.



---
E46 M3 Software Upgrades

---

Shark Injector Performance Software for E46 M3
The stock software on the M3 feels unfinished and unrefined. A software tune is one of the best upgrades you can do to improve the driveability and performance of the car. A car with the Shark Injector software will run smoother and faster than on stock software and you'll wonder how you ever lived without it! Turner offers multiple variations of Shark Injector software to suit your specific vehicle and modifications, including stock cars, those with headers and cat-delete upgrades and SCCA T2/T3 class racing.

Click here to order.



---

Bosch Motorsport ECU System for E46 M3
The Bosch Motorsport ECU offers huge power gains, plus all the benefits of a standalone engine management system with the ease of a plug and play unit. Bosch and Turner Motorsport teamed up to offer a completely tunable ECU system for the E46 M3 that integrates with the stock dash, and yields 76 hp increase with header and cams. The S54 motor previously reached peak power and stayed there for several hundred RPM, while the Bosch unit has a powerful top end increase all the way to redline. You will feel significant power and torque increases anywhere over 4,000 RPM. The Bosch ECU opens the doors for unlimited tuning potential, instant power, and reliability benefits over the stock ECU.

Click here to order.



---
E46 M3 Brake Upgrades

---

E46 M3 Brake Pads for Street Use
We offer multiple types of brake pads to suit your driving needs and expectations. For the street we have OEM replacement, low dust, and performance pads for the E46 M3. We offer a complete selection so you can get just the right pad for the type of driving you do: daily commuting, sporty or aggressive, back road carving, and more. Street pads should be user-friendly with no noise or vibration. They need to work right away, even at cold temperatures. Street pads generally trade high temperature performance for low temperature performance, which makes them work excellent in street situations but generally do not hold up well over continued track use. See below for brake pads for mixed street/track use and all-out track/HPDE and racing use.

Click here to order.



---

E46 M3 Brake Pads for Mixed Street/Track and Autocross Use
"Mixed use" street/track pads are also known as beginner's pads. They are intended for rookie and first-time track drivers who know that their normal street pads will not hold up in prolonged track environments. Using a pad with higher metallic and/or ceramic content will improve its resistance to fade at higher temperatures. Unlike strictly-street pads, mixed-use pads need some heat in them to work effectively. Therefore, they are not the best for regular street use. Metallic pads also tend to squeal and produce large amounts of dust. On the other hand, these are not all-out race pads and some fade on the track may occur. Street-track pads will be fairly easy on rotors and have long life when kept within their operating temps. These generally also work great as an autocross pad.

Click here to order.



---

E46 M3 Brake Pads for Track, HPDE, and Race Use
Race pads work in the temperature ranges commonly seen from repeated braking from high speeds on the racetrack. It's the repeated hard braking from very high speeds that requires a very special brake pad. Nearly all street and mixed-use pads will become ineffective at serious track speeds. Racing brake pads are made up of metallic, ceramic, and composite materials that better manage escalating temperatures while also providing exceptional braking performance. Race pads work within a prescribed temperature range (usually in excess of 600*F) - seldom seen on the street. Rotor wear, especially when cold, is significantly more than any other pad. These pads also produce a lot of brake dust which is also corrosive to paint finishes (wheels, fenders, etc). However, when in their temperature ranges, these pads stop better than anything else.

Click here to order.



---

Stoptech Big Brake Kit Upgrades for E46 M3
StopTech's Big Brakes for the E46 M3 is engineered to work with the stock brake hydraulics and ABS/DSC system. StopTech builds each kit around the specific vehicle, engineering the system to achieve the correct brake balance. This brake upgrade gives better stopping performance in everyday driving, aggressive street driving, or all-out track days. By increasing the rotor size, using a larger pad, and a fixed forged aluminum caliper, you can improve your braking performance substantially for any condition! StopTech Brakes have been used on Turner Motorsport race cars since 2003, winning multiple sports car championships and recording numerous race wins since.

Click here to order.



---

Stoptech Stainless Steel Brake Lines for E46 M3
Factory rubber brake lines can and will swell, wear and crack with age. This will lead to a soft "spongy" brake pedal feel and can reduce your braking system's performance and safety. Don't let that happen. Stoptech's stainless steel brake lines feature a Teflon lining to eliminate "Spongy" brake pedals caused by swelling in conventional lines. No adaptors needed, these lines feature custom fittings to assure a perfect seal. Installation is simple.

Click here to order.



---
E46 M3 Wheel Upgrades

---

Turner Motorsport Wheel Spacers for E46 M3
Turner Motorsport wheel spacers are the best on the market for many reasons. We made a spacer that is light weight (for lower unsprung mass), has a tough and durable coating to last through our New England winters, is easily removed (your mechanic will thank you), and is precisely engineered and manufactured for a proper fit on the hub and in the wheel. You won't find a better engineered wheel spacer on the market!

Click here to order.



---

E46 M3 APEX ARC-8 Fl