Turner 2012 BMW ActiveE 1-Series Project Car
** Updated 12/15/2012 **
Electric cars have been objects of fiction movies in the past, but now they are a reality. BMW announced over a year ago they were going to develop some type of electric car. We didn't think much of it. Then a couple months ago news came to us that BMWs 100% Electric ActiveE 1 series would be available in the US through a special exploratory program. We wanted to see what this was about, so we got on the list to receive one. Here it is.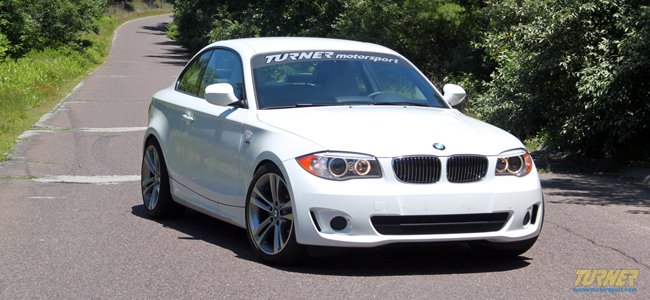 So why an Electric Car?
Simple really. At Turner we pride ourselves on being on the cutting edge of performance and technology for BMWs. Alternative sources of energy are the future and we want to make sure we have a jump start on the things to come. We want to have an understanding of these cars to secure our future as a leading BMW tuner. We chose to be a part of this pilot program with BMW to experience firsthand what it's like to have a BMW that is 100% electric that does not rely on ANY fossil fuels. We want to get a sense of what it's like to drive this car as a daily driver to see the positive as well as see where it can be improved. This car is unlike anything we have ever worked on, built, or raced and that is exciting.
The ActiveE 1 Series is an E82 chassis with an electric power plant consisting of a 32 Kwh lithium ion battery pack which powers a 125 kW (168hp and 184 ft-lbs) electric synchronous motor within the rear axles to power the rear wheels. This motor powers the 4,000 lb car from 0-60 in 8.5 seconds. The ActiveE 1 Series weights approximately 800 lbs more than a E82 135i but has a 50:50 weight distribution front to rear.
The ActiveE program is a test program set up by BMW to field test these vehicles. The testing will include 700 vehicles, 200 which have already been leased as of February 2012.
Here you'll find information, articles and news on our Project ActiveE 1 Series. You'll also find photos, galleries, and video clips of our ActiveE as we capture them.
First Impressions:
No exhaust pipe, no engine noise, and no vibration. The first drive in this car was very strange to say the least. Open the door, interior looks like that of any standard 1 Series, sit in the seat, still not much difference from a 1 Series. Then look closer at the gauge cluster and you will notice there is no tachometer and the speedometer only reads to 110 mph. Look closer and you will find a button labeled "ECO PRO" behind the shift lever. Then you notice the white interior trim with the text; ActiveE. Then it starts to become evident that this is no normal car.
Push the key in and press the on off button and wait.....nothing but a couple lights come on and the car is ready to drive. Put the gear lever into drive and hit the gas and your off. The torque of the electric motor is surprisingly strong down low and the seamless acceleration is also something completely new to us. From 0 all the way up to 95mph there is absolutely no shifting of gears.
Articles & Press:
Quick Drive Turner Project ActiveE
- The Hooniverse
2012 BMW ActiveE Project Car by Turner Motorsport
- TopSpeed
Driving the Turner Motorsport Project ActiveE
- RawAutos
Turner Motorsport Improving the BMW ActiveE
- autoevolution
Turner Obtains BMW ActiveE
- Car Tuning News
2012 BMW ActiveE Project Announced by Turner Motorsport
- AutoGuide
Project ActiveE Gallery
- Turner Motorsport Facebook
The Suspension:
Since we picked up the ActiveE back in March we have been brainstorming ways to turnerize the car from different graphics to crazy wheels and tires to aero modifications. Since the car has primarily been Will Turner's daily driver for his commute to and from work he had to give it the racecar feel. The logical place to start for a car that has no conventional motor to play with was the suspension. We decided to go with a Bilstein PSS10 coilover system for the E82 chassis. The install was for the most part the same as the conventional E82 1 series except for a couple small differences. The first difference is the half inch aluminum spacers in the strut towers. The second is accessing the rear shock tower mounts, much more involved since the electric motor is rear mounted.
Another big difference between this ActiveE and a 128i or 135i is that it weighs 800 pounds more. This obviously has an effect on how the car handles and drives. We knew this would also effect the stance and ride height of these coilovers. We adjusted the PSS10s accordingly to give the car the correct ride height with the additional weight. After we got the ride height set we took the car for its maiden voyage with the new suspension. WOW did it make a difference.
After pulling out of the parking lot it was apparent the coilovers made a huge difference over the stock suspension setup. The car felt planted and somewhat more playful. The Bilstein's somewhat stiffer ride and lower height gave the car something it was missing before, a feeling that made you not want to lift off the accelerator pedal. Not to say that the Bilsteins made the car better in any way, but they do make the ActiveE feel like a proper Turner Motorsport project car. They give it a racier feel; Exactly what Will Turner is looking for.
The additional weight?
Yes its still there but its less noticeable with less body roll when cornering and less weight transfer when under hard braking. When cornering at high speeds you can feel the weight through the steering wheel, you can feel the outside tires begin to lean over but they hold the car feels surprisingly good despite the huge amount of extra weight. Overall the coilovers are a huge improvement in an effort to make this electric car a Turner project car. They give the car a bit more excitement and playfulness. It will be interesting to see the effects on kw/mile with the larger heavier wheels and lower suspension. We will keep you updated.
Update:
December 15th, 2012.
Its been approximately 9 months since we picked up our ActiveE 1-series at the dealership with about 20 miles on it. Currently the car has 5,500 miles and has had it's first service and maintenance completed. We have had no issues with the car although we have had some close calls with running out of battery power. Several times we have made it back into our parking lot with the range indicator reading 0 miles.
Over the course of the 9 months and ~5,500 we have saved the amount of fuel equal to what the average passenger car would use driving 30 miles a day for 9 months. On average our ActiveE has been driven 20-30 miles a day Monday through Friday. This equates to about 7 gallons of fuel for the average passenger car with an average fuel consumption of 24 MPG. If you take the total fuel used in gallons for the last 9 months and multiple it by the average cost of a gallon of gas over the last 9 months ($3.73) we saved roughly $800.00 in fuel over the course of the 9 months.
You might be saying, "Yes you may have saved in gas costs but what about the cost of electricity to charge the car?". This is a great point and this is what we found; the car averages 2.8 miles per KwH. This means that in this area (North Shore, MA) it costs 7.3 cents to travel 2.8 miles. This equates to 63 cents to travel 24 miles, the same distance the average passenger car goes on a gallon of gasoline. That being said, you save approximately $3.10 every 24 miles you travel in the ActiveE 1-series vs. the average conventional gas powered car.
Lets put that into real world numbers for second. If you travel 30 miles per day to and from work and 50 miles over the course of an average weekend you travel about 200 miles a week on average. This means that you spend about $6.05 a week in electricity to power your ActiveE. (compared to $31 for a gasoline powered car). As you can see the energy cost to run an electric car vs. a gasoline powered car is more than about 80% less.
Obviously there are other things to factor into this like maintenance on the ActiveE vs a gas powered 1-series, but most other things are a constant like tires for instance, both an ActiveE and 128i will go through tires in a simialr manner. The gas prices and electricity prices are based off local Massachusetts costs and will vary from state to state and city to city.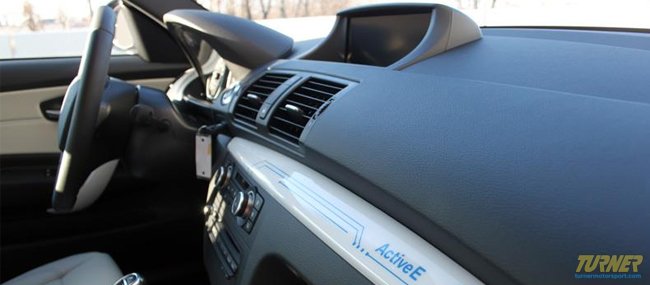 The Gallery:
Videos:
Turner Motorsport
16 Hunt Road South
Amesbury, MA 01913
PHONE: 978-388-7769
FAX: 978 388-4202

BMW ActiveE 1-Series Performance Parts:
---
Suspension


Bilstein PSS10 Coilover Kit
The Bilstein PSS10 Suspension provides the ultimate in performance tuning. The fully-adjustable monotube gas shock absorbers offer a selection of TEN precise compression and rebound settings, from comfort to competition. Each setting "clicks" into place, and a labeled indicator lets you know exactly what setting you are on, without any counting of clicks. The front and rear progressive rate springs allow accurate adjustment of the vehicle ride height and center of gravity for the level of performance you seek.

Part #:GM5-D163-H2
Price: $1,972.95  

Click here to order.