Turner BMW F80 M3 Silverstone Project Car
** Updated 11/12/2015 **
The words BMW and M3 are synonymous with each other. Since the first generation E30 M3 was unveiled at the Frankfurt Auto Show nearly three decades ago, BMWs most iconic and revered model has cemented a legendary reputation around the world as a sports car by which all others are judged.
At Turner Motorsport, we have built our own reputation as one of North America's premier suppliers of BMW OEM and performance parts, particularly with each generation of BMW M3. Throughout our 20+ years in the industry we have constantly pushed the envelope the technology and performance for BMWs, using knowledge gained on the road and on the race track. In order to continue to be at the forefront of offering the latest in performance for your BMW, it was only natural that we get our hands on the latest and greatest from BMW.
Our first F80 M3 was Sakhir Orange combined with carbon structure cloth interior so to change it up a bit we chose Silverstone with the Silverstone extended leather interior which is a classic BMW color that works on any modern BMW.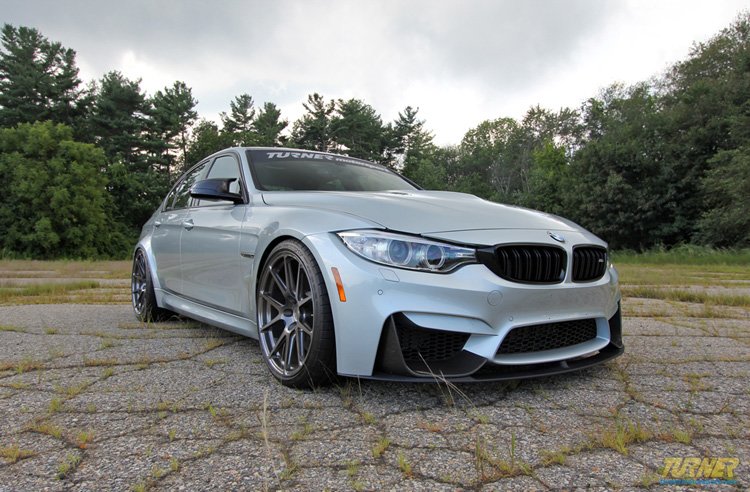 The F80 M3 is a drastic departure from all previous generations of BMW M3s. In order to maintain adequate power and performance figures with increasingly efficient engines, BMW changed their engine philosophy throughout their entire vehicle range. With the introduction of the current generation of M5 and M6, BMW gave birth to a new era of turbocharged, direct-injected engines in their top-tier M cars for the first time in the company's history, something that has continued to the powerplant in the F80 M3.
Gone is the extremely high-revving, naturally-aspirated 4.0-liter S65 V8 from the E9x generation of M3, and in its place is is the S55, a 3.0-liter, twin-turbocharged and direct-injected unit producing 425 horsepower between 5500-7300 rpm, and 406 lb-ft of torque from as low as 1,850 rpm. While we love the high-revving nature of a naturally-aspirated BMW inline-six or V8, BMWs Twin-Power Technology delivers a product with great top-end horsepower, but produces a much greater amount of torque at low RPMs, making for a more friendly power band in normal, everyday driving.  
First Impressions:
Our Project F80 M3, finished in eye-catching Sakhir Orange Metallic paint certainly has plenty of presence in stock form. The lines make the M3 looks very aggressive, both while at a stand-still and while on the road. The flared fenders and wide front fascia add a perception of great width to the vehicle too. For the interior we chose the cloth/leather combination. The cloth material has a carbon fiber-like texture and appearance to it, and together with the carbon fiber trim it completes the interior into a state-of-the-art cockpit.
Although we have had limited drive time behind the wheel of BMWs latest M3. Here are our driving impressions so far.
What a machine! On the road the M3 feels focused and involved, just a sports car the caliber of a BMW M3 should feel. The steering is very direct and linear, especially when in Sport+ mode. We passed on the optional BMW Carbon Ceramic brakes, and instead opted for the regular cross-drilled brake rotors for our M3. We're glad to say the stock brakes slow down our M3 very well and don't seem to fade nearly as quickly as on the our F10 M5 or F13 M6. Keep the weight down in the new M3 has a big role in the lack of fade.
The new S55 engine is extremely potent, and when combined with Sport+ mode and the optional BMW Double Clutch Transmission (DCT) with Drive Logic, makes for very exciting 0-60 runs. With hard accelerations the 3.0-liter, Twin-Power Turbo unit makes some sounds that are reminiscent of the iconic 3.2-liter S54 engine from the E46 M3. From inside the car, the exhaust note at moderate and full throttle sounds great. We only experienced a couple unfamiliar noises when moving at slow speed at low rpms.
The new F80 M3 is a great piece of modern engineering and lives up to the "M3" badge that adorns the rear trunk. The styling, engine, brakes, transmission all perform very well in stock form. However, we are always looking to improve upon a very good product, to make it something truly memorable. Stay tuned for updates and upgrades on our Turner Project F80 M3.
The Project:
At Turner we pride ourselves on being on the cutting edge of performance and technology for BMWs, especially the BMW M3. We want to have a complete understanding of these new cars to continue our reputation as a leading BMW tuner. Please stay tuned for more to come on our Silverstone F80 M3. Our goal is to take this fifth generation M3 and make it unique. We are going to hand pick the best possible products and accessories for this project car to learn first-hand the true potential of this latest generation of forced induction BMW power plants. Please stay tuned as we begin to modify this M3 and review the products we use.
Coming Soon:
We did a large amount of modifications to our first Sakhir Orange F80 m3. The goal for our second F80 in Silverstone is to continue with the best genuine BMW and performance parts while applying them to another car with a total different color combination.
The Gallery
---

HRE FF15 Flowform Wheels for F80 M3, F82 M4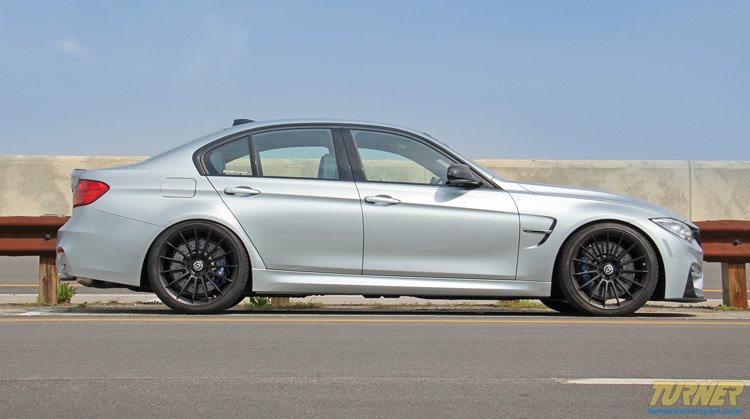 HRE's flowform series of wheels looked amazing on our first Sakhir Orange M3. The FF15's styling and finish in Tarmac is a wheel at home on a large number of modern and classic BMWs. The combination of the Tarmac finish with the Silverstone exterior paint give our latest F80 a timeless, clean appearance. HRE's uncompromising attention to detail, and striking BMW styling with the best flowform technology, results in a wheel that looks great, but costs significantly less than HRE fully forged wheels.
HRE offers their HRE flowform wheels in two styles,
HRE Flowform FF01 Wheel
and FF15. We chose the
HRE Flowform FF15 Wheel
for the F80 M3. The wheels measure 20x9.0" in front, 20x10" in rear and are finished in a matte black finish called "Tarmac". Along with Tarmac, Liquid silver is a no-cost wheel finish for the FF15s. HRE offers many color finishes to choose from for an addition fee.
HRE FF15 Flowform Wheels
---

Turner Interlocking Technology Spacers for F80 M3, F82 M4

The Turner Interlocking Technology Spacers are engineered precisely for BMWs, with multiple features that other brands don't have. They feature an exclusive design that combines a flat wheel spacer AND a BMW hub extender IN ONE product! They have a bridged support structure that fits in the voids of the unique M3/M4 hub. This gives a mesh interlocking fitment for the spacer and a new lip for the wheel to rest on. They are available in 5, 7.5, and 10mm sizes.

The shortcoming of any flat spacer is that not enough hub is left over for the wheel to safely rest on. BMW engineers their wheels to rest on the lip protruding from the hub. The bolts alone are not designed to support the wheel. Placing a flat spacer on the lip reduces the amount of lip available and transfers more stress to the wheel bolts. Since the bolts alone were not designed this way, the bolts and the hub will fail eventually. So our R&D dept. came up with an ingenious combined Spacer and Hub Extender that incorporates a new hub with a flat spacer (a true hubcentric 10mm spacer).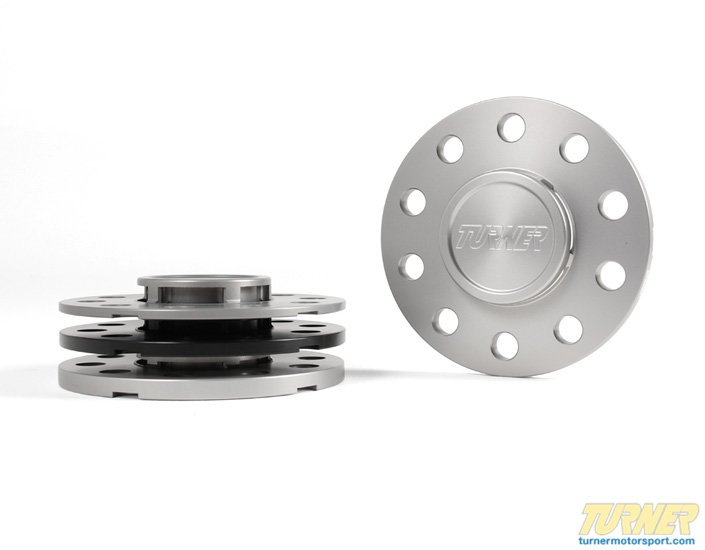 Turner Interlocking Technology Spacers
---

Forgeline GA1R Forged Monoblock Wheels for F80 M3, F82 M4


These beautiful Forgeline GA1R Forged Monoblock wheels looked great when we first installed them on our Sakhir Orange F80 M3. Finished in Transparent Smoke, measuring 20x9.5" front and 20x11" rear these wheel dramatically improved the appearance of the vehicle, giving it a presence it simply did not have with the stock wheels. The color of these wheels lend themselves to work on a variety of different color M3s and M4s, so we decided to see how they would look on our latest Silverstone F80 M3. As you can see by the photo, they did NOT disappoint.
The combination of the Silverstone paint together with the Transparent Smoke finish gives a timeless and classic yet modern appearance to our M3. The Silverstone color shows off the lines of the car in a sleek and aggressive way, while not being as flashy or ostentatious as a brighter color such as Yas Marina or Austin Yellow, making Silverstone/Transparent Smoke one of the the cleanest and classiest F80 M3 color/wheel combinations available.
Forgeline GA1R Monoblock Wheels