Turner BMW F85 X5 M Project Car
** Updated 11/16/2015 **
BMW has a rich and colorful history as one of the world's premier automotive and motorcycle manufacturers. In their nearly 100-year-old history BMW has produced some of the most iconic and revered automobiles for both the street and race track, including such classics as the BMW 507, 3.0 CSL and 2002. BMW's M lineup, first pioneered with the legendary M1, has set the bar for road-going performance vehicles for more than 40 years. With such icons as the E28 M5, E30 M3, E36 M3 Lightweight, and E46 CSL it's easy to see how BMW has earned a reputation for sporty cars with responsive engines and dynamic handling. So, it's easy to see why many loyal BMW owners were dismayed when, in 1999, BMW debuted their first-ever Sport Utility Vehicle (SUV), the E53 X5. Many of those same people were again shocked when BMW added the legendary M badge to the X-Series lineup with the introduction of the first-generation E70 X5 M in April of 2009.
It has now been over six years since the first X5 M was debuted. During that time BMW's top-of-the-line SUV (or Sport Activity Vehicle (SAV) as BMW calls them) has become a very important piece of the BMW M lineup, specifically here in the United States where SUVs and crossovers make up a substantial section of the automotive market.
At Turner Motorsport, we have built our own reputation as one of North America's premier suppliers of BMW OEM and performance parts. Throughout our 20+ years in the industry we have constantly pushed the envelope the technology and performance for BMWs with each new model of BMW, using knowledge gained on the road and on the race track. The latest second-generation F85 X5 M is no expection. In order to continue to be at the forefront of offering the latest in peformance for your BMW, it was only natural that we get our hands on the latest and greatest SAV from BMW. Despite modifying and mantaining many first-gen X5 M and X6 M as well as regular X-series vehicle, this is the first Turner Project SAV.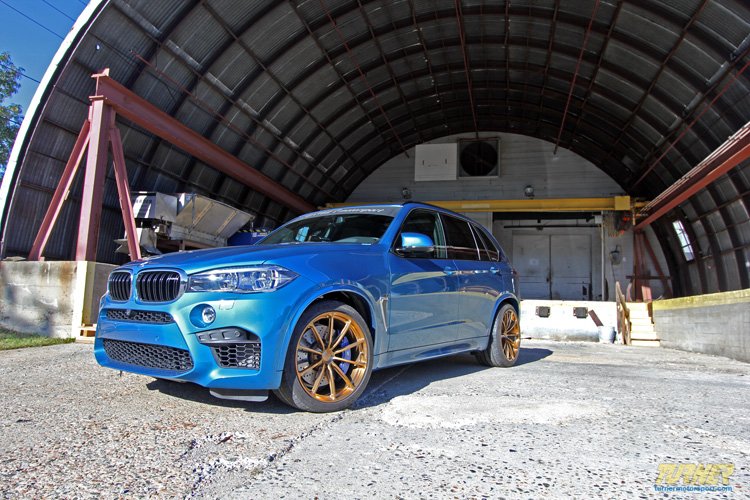 First Impressions:
Our Turner Project X5M is finished in an all-new exterior paint color called Long Beach Blue Metallic. It's an eye-grabbing color somewhat resembling Laguna Seca Blue offered on the E46 M3. However, that's where any comparsions to a E46 M3 or any other BMW M "car" end. The first thing you notice about the F85 generation X5 M is its shear size. It's a very large vehicle. Everything from the wheels and the hood to the front air inlets and rear hatch are large and in charge. At the front of the vehicle, the massive kidney grills, large air inlets for the intake system and multiple intercoolers let you know immediately that this is not an ordinary X5. The flared side wheel arches give further hint of what lurks underneath the vehicle's exterior.
Under the hood lies the latest spec of BMWs 4.4-liter, twin-turbocharged S63 V8 engine, producing a massive 575 horsepower between 6,000-6,500 RPM and 553 lb-ft of torque from 2,200-5,000 RPM. This very broad torque curve really helps the X5M move down the road. Despite weighing-in at over 5.000 lbs our X5 M makes the sprint from 0-60 in just 4.0 seconds. Pretty impressive for such as large automobile. The quick acceleration times are further assisted by an newly-developed 8-speed M Steptronic automatic transmission and a M-specific xDrive system. As with other modern M cars, you can choose to either place the vehicle in automatic mode or select gears via the paddle shifters on the steering wheel. There is a Launch Control feature with our X5M, and we will outline its performance once the function is unlocked by the dealership at its first scheduled maintenance.
When it comes to the handling, braking and esthetics of the X5 M, certain elements are similar to other current M models, such as the ability to choose between three different driving modes (Comfort, Sport & Sport Plus). In Sport Plus the X5 M's suspension is significantly stiffer and more responsive than in the other two modes. Slowing down a 5,000+ lb vehicle isn't easy, but the six-piston calipers and single floating rear calipers together with large cross-drilled rotors do a decent job. In keeping with the "bigger is better" theme, surrounding the braking system are the optional 21" wheels measuring 21x10" front and 21x11.5" rear that are wrapped in Michelin Pilot Super Sport tires measuring 285/35/21 and 325/30/21 respectively.
The Project:
At Turner we pride ourselves on being on the cutting edge of performance and technology for BMWs, including the BMW X5 M. We want to have a complete understanding of these new cars to continue our reputation as a leading BMW tuner. Our goal is to take this X5 M and make it unique. We are going to hand pick the best possible products and accessories for this project car to learn first-hand the true potential of this latest generation of X5 M. Please stay tuned as we begin to modify and enhance this X5 M and review the products we use. However, we are always looking to improve upon a very good product, to make it something truly memorable. Stay tuned for updates and upgrades on our Turner Project F85 X5 M.
The Gallery
Forgeline Wheels
After having our X5 M for a short period of time, it became clear to us the vehicle was in needs of some wider, more aggressive wheels and sport springs. We decided on
Forgeline GT1 Forged Monoblock Wheels
. Turner has installed Forgeline's on a large number of our project and customer vehicles. Their products not only give our X5 M an enhance appearance, they also perform extremely well, thus making the vehicle better as a whole.
We chose to keep the staggered wheel setup when it came to the Forgeline GT1 wheels. The front wheels measure 21x10" (unchanged from the stock 21" wheels) while the rears are wider at 21x12". The latest X5 M comes from the factory with very wide wheels and tires. Despite this, having more rubber on the road is always a good thing when you are looking to improve the performance of a vehicle. The new wheels give the X5 M a very menacing and aggressive stance. They really make the vehicle look the part of a world-class, high performance SUV.  
X5 M with Forgeline GT1 Wheels
---
Forgeline GT1 Wheels
---
H&R Springs
In addition to the Forgeline wheels, another area of our Project X5 M that needed to be addressed was the ride height. Because BMW designs their X-series SAVs to be multi-purpose, multi-use vehicles that can tackle grocery-getting or light off-road use. Even though the chances of someone taking a six-figure vehicle off-road are silm, BMW has to take that possibility into account. Since we have no intention of going anywhere near an off-road trail, we lowered the suspension with H&R Springs. These springs reduce ride height by approximately 1.3" in the front and rear.
The kit does this by traditional springs in the front of the vehicle, while the rear is lowered by shims that limit the amount of air allowed into the rear airbags. The result is a much better overall stance and appearance. Gone are the massive gaps between the fenders and the wheels. Even with the factory 21" wheels, the fender gap was simply too large for our tastes. After all, this is a 600 horsepower, high performance super SAV, not a Jeep.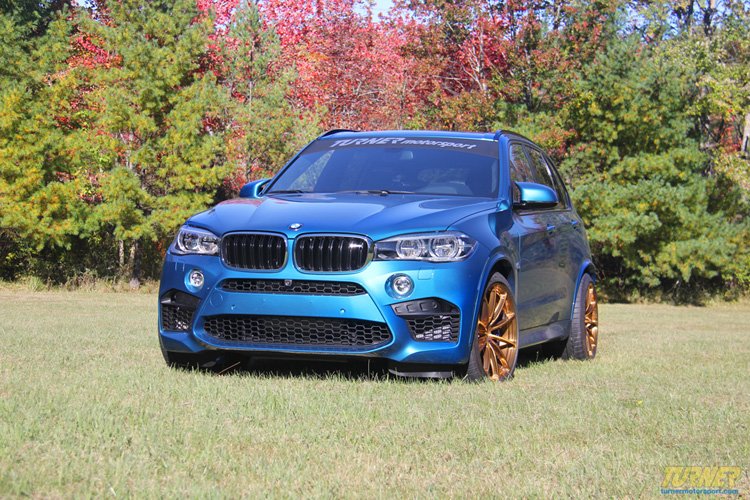 F85 X5 M with H&R Springs
Turner Motorsport
16 Hunt Road South
Amesbury, MA 01913
PHONE: 978-388-7769
FAX: 978 388-4202