Turner Lime Rock Edition M3 Project Car: The Last V8 M3
** Updated 02/24/2015 **
Turner Motorsport yellow and blue BMW race cars are synonymous with Lime Rock Park. Will Turner began tracking his first BMW, a 1985 E30 323i at Lime Rock park back in the late 1980s and has since competed in dozens of professional races at BMW's home track. Turner Motorsport has competed in professional races at Lime Rock since 1998. During the mid-2000s the team prevailed at Lime Rock more than any other professional BMW team, with drivers like Connecticut-native
Boris Said, Bill Auberlen, and Joey Hand
. Auberlen's first race with BMW was at Lime Rock in 1996. He gave us the scoop on the special edition and we were enthusiastically on board.
Apart from its "Limited Edition" quantity or its special edition paint and options, we wanted a "Lime Rock M3" for the sole reason that so much of our history and humble beginnings as a BMW race team and performance tuner take roots from that 1.5 mile road course in Northwestern Connecticut. The fact that the car was associated with Lime Rock was enough for us to necessitate having one of our own. The Lime Rock Edition M3 was the first ever production car named after Lime Rock Park (and hopefully the last).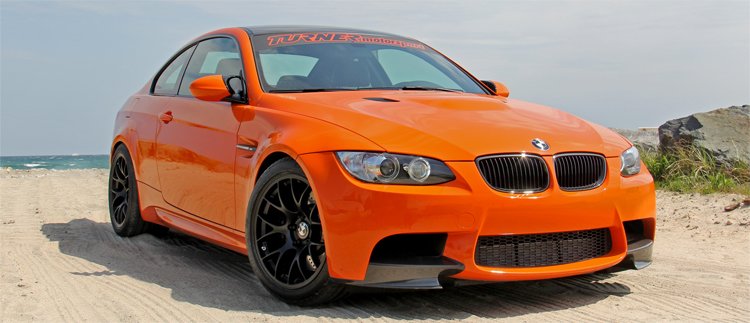 The limited quantity of 200 and the bright orange paint is surprisingly attractive, but what really makes this car special for us is that it's the best of every M3 bundled into one package. Lime Rock luminary Skip Barber described it as a "classic car for a classic track." We celebrate it as the perfect end to an era of naturally aspirated engines and 6 speed manual gearboxes. The Lime Rock M3 could very possibly be the last naturally-aspirated M car with a manual transmission and that's just one more reason to covet this car. All Lime Rock M3s come with a limited options list and we decided to get our's "stripped" with just the basic options to keep it as light and simple as possible. The only options we ordered were the heated seats (for those cold morning drives to the track) and satellite radio (for the long drives). Our approach was echoed by Barber, "There are a lot of BMW enthusiasts who feel that BMW has put too much emphasis on luxury and things are too complicated. The idea here is really back to basics."
We understand that many BMW enthusiasts cried foul with the fact that this M3 is inspired by a racetrack but not any faster out of the box than any other E92 M3 despite the more expensive price tag. But when you look closer at the numbers and recognize the intent of this car it all begins to add up. In fact, the Lime Rock M3 is really no more expensive than your standard E92 M3 with optional BMW M-Performance add-ons.
A standard 2013 BMW M3 Coupe starts at a suggested retail value of $60,100.00. The Lime Rock Edition adds $10,000 for a new starting price of $70,100.00. The $10k Lime Rock package includes these items (as of November, 2012 with discounted retail pricing, not list price):
Competition Package ($2,500)
M Performance Inconel Exhaust ($3,999)
here
M Performance Alcantera Steering Wheel ($800)
here
M Performance Carbon Rear Spoiler ($565)
here
M Performance Front Carbon Splitters ($790)
here
Total = $8,654.00 at our discounted retail pricing
However, this total does not include the BMW Individual paint which typically starts at $3,000.00. It also does not account for installation labor (carried out by BMW NA). With that said, this makes the Lime Rock Edition M3 an excellent value for someone who wants a new and unique M3 with some BMW M Performance parts and accessories installed right from the showroom floor. Yes, these modifications do not ultimately make the M3 perform better than any other ZCP M3 but that wasn't the point. The Lime Rock M3 is an exercise in celebrating BMW's enviable record at one of America's greatest racetracks. Its focus is on sport rather than luxury while still allowing it to be driven as a daily driver on the street with a full factory warranty. Just as the first E36 M3 Lightweight was the same power specs as a standard car, the Lime Rock M3 provides a better basis for a future track car - no sunroof, manual seats, lighter weight titanium exhaust, and limited options. For anyone who does not want to display their appreciation for BMW's M car and racing heritage in this way, there are plenty of silver M3s out on the used market you can build with the same components.
We do not believe the Lime Rock Edition is a waste of money. You can see exactly why the package has a $10,000 price tag, not just because it's a bright color, but because it has parts that would cost anyone with an E92 M3 over $8k. We are happy we opted to order one and stoked to have such a great looking M3 with the V8 power plant and 6 speed manual gearbox like any BMW track car should have.
The History
BMW Race History At Lime Rock Park
1997
IMSA GT
1st
BMW PTG M3
Quiros/Hill
1998
IMSA GT2
IMSA GT3
1st
1st
BMW PTG M3
Said/Duez
Cunningham/Bentley
1999
USRRC GT3
1st
BMW PTG M3
Stuck/Said
2000
Grand-Am
2nd
Genesis Racing M3
Auberlen/Fairbanks
2001
Rolex GT
SPEED Touring Car
1st
1st
JET Motorsports M3 V8
Turner Motorsport 328is
Borcheller/Jennings
Auberlen
2002
SPEED GT
3rd
McMillin Motorsports M3
McMillin
2003
SPEED GT R1
SPEED GT R2
1st
1st
BMW PTG M3
BMW PTG M3
Auberlen
Auberlen
2004
SPEED Touring Car
1st
Turner Motorsport 325i
Auberlen
2005
SPEED Touring Car
1st
Turner Motorsport 325i
Auberlen
2006
Grand-Am Cup GS
1st
Turner Motorsport M3
Auberlen/Gleason
2007
Koni Challenge GS
1st
Turner Motorsport M3
Auberlen/Gleason
2008
Koni Challenge GS
pole
Turner Motorsport M3
Ortiz/Salama
2009
Koni Challenge GS
1st
Turner Motorsport M3
Gleason/Hand
2010
Continental Tire GS
1st
Turner Motorsport M3
Hand/Marsal
2011
ALMS GT
1st
BMW Team RLL M3
Hand/Muller
2012
Continental Tire GS
2nd
Fall-Line Motorsports M3
Boden/Sellers
The Color:
Just where did that color come from anyway?!? Orange hues are nothing new for BMW or for the E92 M3. Many special BMW models have had some form of orange as an option. Inca Orange was a standard color option, and a period favorite, on the 1970s 2002 models. A few 3.0CSL models came from the factory with it as well. In the 1980s BMW offered a Henna Red on E26 M1 models and early E30 models which was close to an orange shade. The color fell out of favor in the 1990s but returned in 2009 with the E92 M3 GTS for the European market. The GTS' paint is the same Fire Orange (paint code: U94) hue as on the Lime Rock models. In addition, Valencia Orange was one of three colors offered for the BMW E82 1M coupe.
There is a coincidental tie-in with the Lime Rock Park racetrack as well. The 'Lime Rock Park Driver's Club' uses an orange in their logo:

The Gallery:


Official Turner Lime Rock Edition M3 Wallpaper here.


More Media:
First Impressions:
Fantastic, just like any other brand new M3 would be. We became fans of the color almost immediately. Even with its 'hey-look-at-me' color we think it looks right at home with the E92 body. Maybe it's the black trim in lieu of chrome. Or maybe it was because we took delivery around Halloween. But it didn't take long for everyone at Turner to be a fan. Once inside, M3 owners will immediately notice how simple the interior is. There is no navigation screen and no iDrive. There's not even a single cupholder. Reaching down to adjust the seats and you're met with - a handle. But the car isn't spartan. It has the full radio with CD, aux input, and Sirius satellite radio. We optioned for the heated seats and the A/C controls are the same as in any M3. It doesn't wow you with electronic gizmos. It has everything you
need
and nothing you don't.
Lighting off the S65 4-liter V8 is what joy sounds like. There's V8 rumble of course, but it's enhanced with sophistication from the
M Performance exhaust
. You can't not love this exhaust - beautiful sound and not too loud. It may be the most perfect exhaust for any BMW ever. The Alcantara-covered steering wheel gives you the "track car" feel and reminds you of this car's inspiration. The overall attitude of this car encourages you to turn the radio off and put the windows down to get as much of the sound and feel as possible. Drop the 6 speed transmission down a gear and enjoy the ride.
Will Turner notes that the experience is a welcome return to driver control. "Getting so use to driving the DCT in the Frozen Gray M3 has distanced me from the experience of pushing the clutch and shifting gears, something that I have missed. There is nothing that can quite replace the sensual feel of a classic 6 speed transmission. I am excited to have another 6 speed M3 and can't wait to play with it on the track."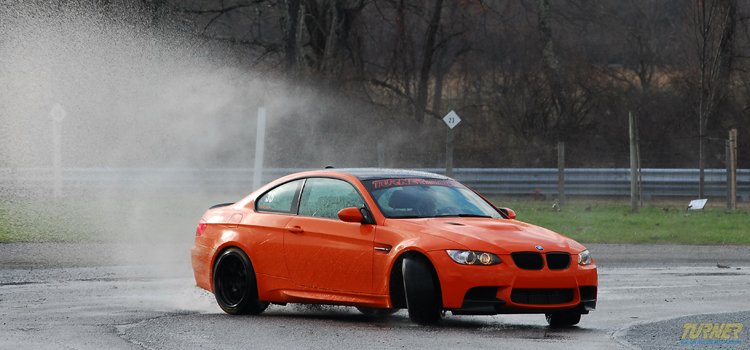 The Goal:
With this M3, we want to focus our attention on subtle and easy changes that will make the car better on the racetrack without interfering with daily street use. The car is already a bit more track-oriented than a standard M3 and we wanted to enhance that based on our other E92 experiences. There was nothing obviously wrong with the handling, braking, or performance of the car right out of the box. But there were areas that could be
better
, and it doesn't take much to get it there.
Even with the Competition Package the car still understeers which will chew up your tires and slow your lap times. We followed the conventional approach and added a set of H&R Sport Plus springs and H&R front sway bar. Both combined to improve turn-in, give the tires more grip, and reduce bodyroll. The springs work with the stock EDC system so there wasn't any need to change them out. On the street what we noticed was that the front tires bit harder into the turn and the back end followed obediently. The car was much more eager to change direction but the front tires had much more feedback. Most of that was from the swaybar upgrade. The springs are a bit stiffer than the originals and that can be felt on very rough pavement. But on highways and regular roads the ride was easily tolerable.
As you will see below we have already begun to install products we believe will make the car much more enjoyable on the track as well as the street. Please stay tuned for updates on this new Turner Project Car below.
Track Day: Lime Rock Park:
We brought the car to its namesake Lime Rock Park for its first track outing. The car exceeded all our expectations. We installed a set of
StopTech Street Performance pads
for more consistent and predictable braking and they worked awesome. We also installed a square set of Forgeline 18x10 wheels. The greater front tire size simply allows more tire to contact the pavement. Speaking of tires, we used a set of Continental racing slicks from our E92 M3 race team. The Sport Plus springs help the car to feel much more buttoned-down and balanced. The whole package made for a very capable and easy car to drive fast. Without the chronic understeer, and the extra grip from the Continental slicks, the tuned M3 lives up to its marketing promise. This was a club outing and many 'RS' type cars, and their drivers, were caught out by the speed of this 'street' car. We had also installed a
4.10 custom differential
for better acceleration in every gear. We also had our new
custom P3 Gauge
kit. This is a special Turner-specific gauge package with custom data feed for 0-60 and 0-100 times. It also proved to be very handy for things like coolant temperature and EGTs and was very visible and easy to read while on track.
The
BMW Performance Inconel Exhaust system
also came alive on the track and the sound was awesome. When coming out of Turn 4 headed down no name straight the recussion of the sound from the hillside on your right and the guardrails on the left is awesome. The car really feels at home at this track.
Turner GT driver Michael Marsal joined us to put down some laps in the M3. We also had David Haueter, an automotive journalist there to record Michael's thoughts and impressions on the car. Look for the Lime Rock M3 Project car to be featured in an upcoming Roundel Magazine article. A full list of the products on the car for the track day and magazine article have been provided below.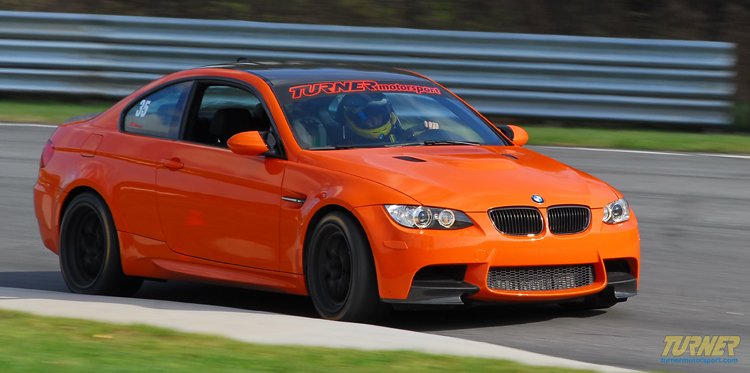 Lime Rock Edition M3 Performance Parts Packages:
---
Suspension


H&R Sport Plus Spring Set for E92 M3
This spring set will help firm up the stock suspension as well as reduce body roll. They will also make a noticeable visual improvement to the M3s stance, reducing the perceived fender gap of the stock ride height by .75" front, and 0.25" rear compared with the stock competition package suspension. The same ride height as the standard H&R Sport springs but with a stiffer spring rate geared even more towards track performance. These springs combined with the H&R 27mm sway bar below are the perfect combination for a dual purpose street and track car.

Click here to order.
---

H&R Front Sway Bar E92 M3
The H&R for the E9X M3 is the best anti-roll bar option for the E9X M3. The H&R swaybar is over 52% stiffer than the factory E90/E92 M3 bar and even over 42% stiffer than the E93 M3 sway bar upgrade. There are several reasons for this - the stock sway bars are hollow (for lighter weight) and will twist more than the solid H&R bar. Also, the E93 M3 bar is often called a 28mm bar but it actually tapers down in the center to 24mm which greatly reduces its effectiveness. So if you're looking for a serious sway bar upgrade, the H&R is clearly the way to go.

Click here to order.
---
Brakes


Stoptech Street Performance Brake Pads for E9X M3
StopTech Street Performance front brake pads are designed for high-performance street drivers who want a high-quality and capable pad that won't break the wallet. These pads feature an innovative composite compound that is quiet, great bite and modulation, low fade under hard street-type use (and autocross, light track). We've tried these pads and love how capable they were when used hard but also how easy they were for regular stop-and-go driving. This might be the last brake pad you will ever need!

Click here to order.

Stoptech Steel Braided Brake Lines for E9X M3
Stoptech® Stainless Steel Braided Brake Lines provide a quicker, firmer, more consistent pedal response by maintaining consistent brake pressure. Additionally, stainless steel lines provide precision brake modulation, especially during threshold braking. The improvement in pedal feel is more dramatic on older vehicles where the factory rubber line may have softened and swelled due to age.

Part #: PLBE9XM3
Price: $129.95

Click here to order.
---
Drivetrain


Custom 4.10 Differential for E92 M3
One of the "best bang for the buck" upgrades for your E9X M3 is a shorter differential gear. Making the ratio change increases torque delivery to the ground by allowing the car to operate in the ideal power band more of the time. We feel that changing the gearing one of the top 3 things to do to make your M3 faster and perform better on the track.

The 6 speed M3 comes with a 3.85 gear and we choose to install a 4.10 gear ratio to increase acceleration. We also raised the rev limit from 8300 to 8600 to compensate for the shorter gear.

Click here to order.
Exterior


Turner Motorsport Official Windshield Banner
Turner Motorsport vinyl graphics are made from high performance cast graphic film, which has superior resistance to sunlight and adhesive longevity. The Turner Motorsport Logo is printed in super high quality vinyl inks giving the banner a professional look. We currently offer the Turner Motorsport logo in either white or silver, with gloss black trim on a matte black background. Just like the ones on our Turner Motorsport Project Cars!

Click here to order.
---

Genuine BMW Black Chrome Front Grill Set
These Genuine BMW black chrome front grills give your BMW a more aggressive look and go with any BMW paint color. We especially like the look of the black with the orange paint of our Lime Rock M3.


Click here to order.
---

Matte Black Hood Vent Grill Trim Kit
These direct replacement matte black hood vents give you the stealth look of the M3 GTS. They feature perfect fit and beautiful finish, and give you a darker more aggressive look to your M3. Kit includes two blacked out hood vent trim panels with matte black finish.


Click here to order.
---

Genuine BMW Black Chrome Side Grill Set
These genuine BMW black chrome side gills are designed to fit BMW E92 E93 M3's. The black chrome gives the car a unique and more aggressive look than the standard M3 side grills.


Click here to order.
---

Turner Individual Painted E9X M3 Air box
Inspired by the BMW GTS M3 available in Europe, we painted our Lime Rock M3 airbox to match the "Fire Orange" paint giving it an eye popping look with the hood open. Please email jbaier@turnermotorsport.com for more information about pricing and details to paint your M3s air box. All we need is your "airbox" core and the color you wish to match.


Inquire here
---
Engine


Inconel BMW Performance Exhaust for M3
With the racetrack and the street in mind, this new exhaust system is crafted from an extremely heat-resistant and lightweight chrome-nickel alloy called Inconel®. This flow optimized exhaust system reduces exhaust backpressure and allows the M3's 414 horsepower V8 engine to produce an even more powerful sound. Inconel's unique qualities allowed engineers to reduce the thickness of the tubing from 1.5mm to 0.8mm. This resulted in a weight reduction of approximately 40%, or about 20 lbs. when compared to the stock exhaust system.

Click here to order.
---

E92 M3 Turner Motorsport Test Pipes (Cat Delete)
We have done extensive dyno testing on several E9X M3s with just the Test Pipes as well as developing a custom tuned Stage 2 Race software specifically for the cat-delete. Time after time, our dyno has shown HUGE INCREASES IN POWER with this setup. This mod is so well known that copies of the Turner Test Pipes are showing up. When these Test Pipes are combined with our Race software, they gross 40hp @ 8000 rpm and 32 lb/ft @ 3000rpm. Freeing up this power is essential for a track car.


Click here to order.
---

Turner Motorsport Race Software for E9X M3
This special Race software is designed to work with a Test Pipe, or other front exhaust section that eliminates the primary catalytic converters. On our own M3 project vehicles, this combination netted 40hp and 32ft-lbs of torque* - a massive transformation to an already impressive output. Our Race software makes use of the same features of our street legal Stage 1 software - altering ignition timing, fuel mixture tables, and VANOS operation with the added benefit of using a racing exhaust without the front or back catalytic converters. We also chose to raise the rev limit to work with our 4.10 ring and pinion to put our Lime Rock M3 in the power band in every gear.


Click here to order.
---

Turner Motorsport Power Pulley Kit
Get MORE HORSEPOWER and TORQUE on your M3 by replacing the stock crank pulley with this specially designed performance version. The Power Pulley reduces rotational mass and safely under drives your belt driven auxiliaries for reduced parasitic power loss. The end result: More power to your M3's rear wheels! Designed to give the best performance benefit with no sacrifices or compromises to your BMW's reliability. These have been tested on hundreds of cars before public release and there are simply NO DOWNSIDES to this upgrade. The combination of these power pulleys with Turner software and Test Pipes is perfect for any track or street M3.


Click here to order.
---